By Linda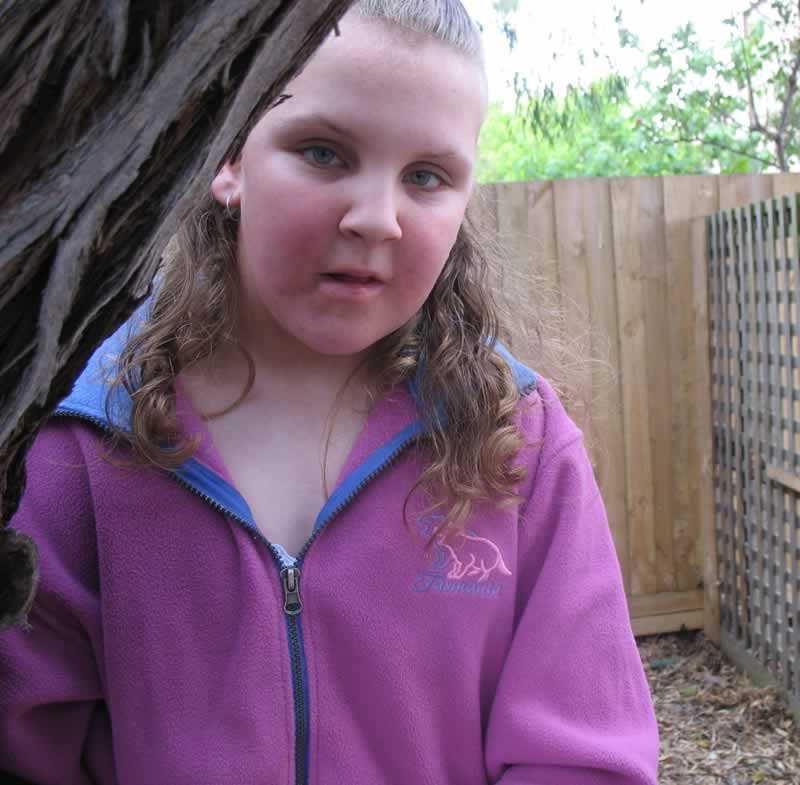 My name is Linda Flannery and I am the mother of 16 1/2 year old Brentarah. I was pregnant with Brentarah at the age of seventeen. I had a lot of morning sickness whilstcarrying Brentarah. I had all my regular check ups and scans, they said everything was fine. On the 11th June, 1993 at Latrobe Hospital Brentarah was delivered by Caesarean Section.
As I wasn't dilating and when I was pregnant I suffered with high blood pressure. After Brentara was delivered they said she could not suck properly so they inserted a nasal gastric tube. I had learnt how to do this and was taking Brentarah home on day five. I had her all dressed up and was waiting for discharge when the paediatrician came in and said we have just found an ultra sound report saying your baby has one kidney. We lived in Roseberry Tasmania and was informed to stay at my fathers house in Devonport for a week then see the paediatrician again. So we stayed with my dad and step mum for a week waiting for the appointment. Meanwhile Brentarah was still tube fed and had reflux very bad, I would try her on a bottle every feed before I would put her down with the NG tube. On the day of our appointment with the paediatrician I was told that my daughter had a funny shaped heart and an unusual shaped face, she said Hobart hospital does not want to see you, they want me to send you to RCH Melbourne. Me being a young mother, I was starting to panic.
In the next week we were off to Melbourne. When we arrived we settled Brentarah into the neonatalward. We went out for tea and when we arrived back from tea I seen a big machine over Brentarah. I could see something beating and it looked to me like something was wrong with her heart. I turned to Brentarah's father Kayden and said our daughter has a hole in her heart. Then the Dr came over to where we were standing and said your daughters needs open heart surgery asap. I nearly fell to the ground. The surgeon sat us down and drew pictures of a normal heart and the aortas and then drew Brentarah's heart. She had a massive hole in her heart and her aorta was blocked. The day Brentarah was due to go to theatre she couldn't as she caught a virus in neonatal ward so it was a risk of an infection if they opened her up. Brentarah finally had her surgery. It was a long day. Brentarah had lots of blood transfusions as her blood wouldn't clot properly. Brentarah could breathe on her own, but they wanted her to rest. Her chest was left open for 3-4 days till the swelling went down, then she went to theatre to bestitched up. She still had the wires in case she needed a pace maker. Brentarah died a few times on us but she always came back. After they gave us the ok to take her home on July 22nd 1993 which was my 18th birthday we flew back to Burnie Tasmania with a nurse. Days went by and Introducing Brentarah continued.
Brentarah was still failing to thrive. At 3 months of age we went back to R.C.H Melbourne. Brentarah had to have an operation on her hip as when she was born she had clicky hips. She always wore two cloth nappies to try and fix it but it didn't work. Brentarah had the hip operation and we returned home to Tassie. Brentara was sick one day with what my step mum said was an ear infection so I took her down to her G.P, where the Dr met me at the door and said sorry your daughter is not going to live past three months of age. I fell to the ground and started crying. The Dr had received information from R.C.H Melbourne but had not informed us. I was told Brentarah would never walk, talk or eat on her own. Being so determined to not give up I always treated Brentarah as a normal baby. I always tried bottle feeding before the tube, at 9 months old the tube fell out and Brentarah's dad said take her down to the surgery and get the tube put back in. I said no if she is thirsty she will drink. Within 3 days I had Brentarah drinking from a bottle. All of the doctors were so amazed. Brentarah still had episodes where she would stop breathing. At this stage she had gone from having plaster on legs to a brace.
At 14 months old Brentarah was walking and doing really well. She was still very dainty. I took her to Genetics when Brentarah was over 2 years old. The genetics were in the room not even 3 minutes and said your daughter has Kabuki make up syndrome. I was devastated as I blamed myself for all that went wrong. But I do not drink and smoke and was wondering what I did to deserve this. Brentarah did a few years at early special education in P'port then we moved to Railton Tasmania where I went to enrol her in a normal primary school. The teacher said she could not have Brentarah in her class as her other students would suffer. I stood strong and stood my ground. I wanted my daughter to have the right to an education. So finally Brentarah started school at Railton with an aid to help her during the day. Brentarah did a lot of physio and hydrotherapy as well as speech therapy. I was waking up every day thinking this will be the day I lose my daughter as the doctor only gave her 3 months. Brentarah was quiet growing up but would always have a go. We ended up moving to Wynyard where Brentarah went to Table Cape Primary. She was loved by all the students and teachers.
She completed primary school in leaps and bounds and then went onto Wynyard High school, she is a loved student here at WHS and has a go at everything. She goes horse riding with the disabled school, goes down town to do community access where she has learnt all about the value of money and paying for things. Brentarah is now in grade 10 and loves school. Brentarah will have to have more surgery on her hip as its not growing right but causes her no pain or discomfort. Brentarah has a younger brother, Brodie who is nearly 15. We got him checked at birth but he did not have Kabuki. Brentarah has two kidneys but one is lower than normal. She wears glasses exceptfor playing outside. we are so blessed to have Brentarah, she is so loving and caring.