By Peta Colton
Zachary has Kabuki Syndrome.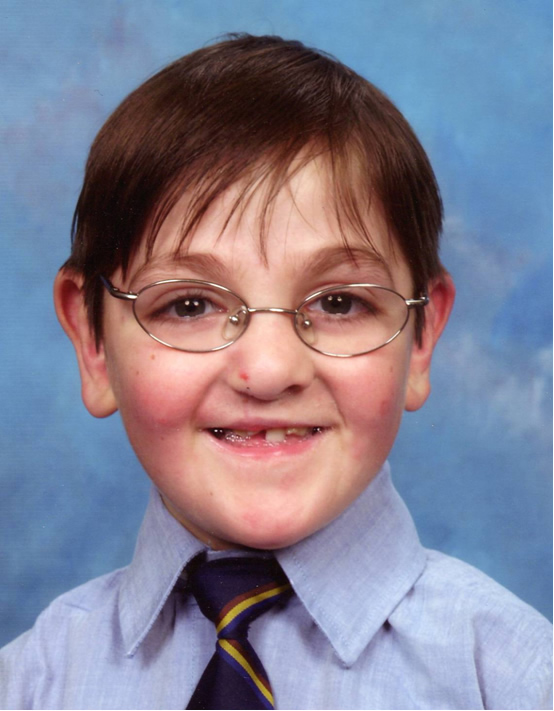 At 10 weeks I discovered I was pregnant with twins. I remember spending the next hour laughing from shock.  The following weeks were the usual twin pregnancy morning sickness, cravings, and anticipation of an expectant mother.
At 19 weeks a routine ultrasound showed that twin 2 had a cleft lip and pleural effusion. Our doctor broke the news gently and then told us that the baby had a good chance of being Down's syndrome.  I was devastated.
We asked the doctor for an amniocentesis and he performed it the next day. We were then informed that we would have to wait up to a month for the results.
Time stood still, and an overwhelming feeling took over our lives.  After two weeks we began daily telephone calls to our doctor to see if the results were in, and at day 21 we were told that they were but our doctor was away, and she (receptionist) couldn't give them to us.  My husband jumped into the car and headed for the surgery.  Once there the receptionist said that the notes were on the desk and she would look away; I guess the sight of a man with tears in his eyes was too much for her to ignore.  He read the results and came home. He was crying and smiling at the same time - I knew the news was good. I spent the next few weeks very uncomfortable but content knowing that my fears of having a child with Down's syndrome weren't an issue any more.
My next appointment was with a different doctor because mine was away. He seemed a little concerned about the growth of my tummy, (I was 31 weeks at the time). I assumed my little bubs were content and growing well.  While we were leaving he asked me to go and have an ultra sound ASAP, and the next available appointment was for the next day.  This ultra sound took 2½ hours and eventually the lady performing the scan said "I am not supposed to say anything, but your baby is very sick". The radiographer told me to wait while they rang the doctor, who told my husband over the phone to get me to the WCH, (Women's and Children's Hospital), as soon as possible.  So much inside you just shuts down. Like a feeling of numbness.  On arrival we were shown to a suite where the bustle of nurses was just a dull noise as my heart was breaking. Our doctor told us it looked very grave.  I had nothing to say to any one including my husband.  A spinal block was inserted and the Caesarean Section commenced. Twin 1, our little girl Hannah was born first and I couldn't believe how small she was, then twin 2 next.  I so vividly remember laying there wishing to run after the babies that they had pulled from my body, but I couldn't move. Instead I lay listening and anticipating the cries of new born babies, but they didn't come. The next thing I remember was incredible pain as the spinal block failed and they knocked me out.  When I woke I remember them fussing about my blood pressure when all I wanted was to find my babies.  Hours later they offered to take me to NICU so I could see Hannah and Zachary; I looked at Hannah she was small but I wasn't worried. Then I met Zachary…
My world changed that day forever.
I cant explain the pain I was feeling, but it was a combination of fear, loss, and grief - and still now 8 years on, I don't let myself remember. But it is still there.
The day you enter NICU nothing can prepare you for the roller coaster journey that follows, as a series of steps that lead you to here, this day. I spent the first 10 days as a patient at the hospital, which allowed me to spend every minute with the twins. Hannah graduated from NICU, to SCBU 1, but decided on another short stay back in NICU a little later. The first priority for Zachary was to drain the fluid that filled his body and chest cavity. So many drains, so many tubes, so many probes, and machines that went beep.
Expressing milk gave me something else to think about every few hours.
Zachary was on a ventilator and a zillion drugs to keep him going, and after a few days it was necessary to do a complete blood transfusion, and I was firm about being present for this procedure. I am an idiot, because it was the worst thing I have ever seen. One syringe of blood going in, one coming out. After 2 syringes, I ran from the room crying. This procedure was successful and his next achievement was going to be to poo. He also had a haematoma.
The time had now come for me to go home and leave my babies behind. It was the hardest day of my life. My husband sat at the wheel and my two beautiful daughters sat in the back and I howled all the way home. I cried and cried. I remember pushing my girl's beds together and sleeping in the middle that night, but my husband Adrian needed me too.
Next was a routine of getting up, putting breast milk on ice, dressing and feeding the girls, and going to the hospital. Our girls were part of the furniture in the hospital crèche, and their world had changed significantly too. One particular day, I remember skipping into the hospital with Adrian after being told Zachary had finally poo'd. After walking through the doors with big smiles we were asked into the doctor's room for a chat. Our happiness was short lived because we were then told our little man had a coarctation of the aorta. They would keep him alive with hourly doses of Prostin, and when he was at least 2 kilos, he could have surgery to repair his aorta. Zachary was tiny because amongst all the medical complications that I can't remember to list, was NECH (a necrotising bowel disease) which hindered his growth even more.
After about 5 or 6 weeks, we were finally allowed to bring Hannah home. Unfortunately this was short lived too, Hannah couldn't stop vomiting. Her vomits were so strong they could hit the wall on the other side of the room. Funny enough, the last subject I had studied was Pyloric Stenosis, so I was the first to diagnose her, but we let the doctors do that formally. Back to hospital for her. Hannah had her surgery, as did our eldest; our five year old had her adenoids out at a different hospital. I was taxiing breast milk and my love and mothering between 2 hospitals; 3 separate wards at the same time. Any other parent in my position at the time would say the same thing; there is no time to think about it all; just get on with it.
I decided to take advantage of the new parent's suite, mainly so I could be close to the twins together if only just for one night  My role there was to just be with Hannah in a room, with advice at the ready in case I needed it. I didn't. After little sleep I woke up with Zachary's cardiologist standing near my bed. He told me that we (Adrian, myself and Hannah) were booked on a flight to Melbourne's Royal Children's Hospital for Zachary's heart surgery the following morning. Zachary wasn't 2 kilos yet but he never would be if he didn't have the surgery. Our girls stayed with my parents.
A completely different set up – Adrian flew with Zachary on Air ambulance and I went on a domestic flight with Hannah. Upon arrival, I was told that I would have to breast feed Hannah in the toilet - some people find it offensive, so you must not do this in public. Eventually found Zachary, in a general ward, with no oxygen, and no nurse. We were frantically explaining to all or any who would listen, that Zachary was from an intensive care unit where he was in an oxygen tent, with his own nurse. His nurse in Melbourne had 3 other children to look after and told us this is the way it was, and that after his surgery, he would go to the cardiac unit.
Have you ever been so scared and frustrated that you could have pushed brick walls down?. Prostin had to be given on the hour every hour, (it was keeping him alive). "Has he had his prostin?", we would constantly ask. This meant we didn't want to leave him for a break, so we took turns. That is, of course, when I wasn't in a breast feeding cubicle. Zachary had mucous plugs that stopped him from breathing, so he needed constant suctioning. When he had his own nurse in Adelaide, she was never idle. We explained this but I guess they had to find this out for themselves. So when Zachary couldn't breathe, a very panicky nurse arranged for Zachary to have his own nurse. When the doctors assessed that this would be the best he could be for the surgery, they scheduled him in - 3 days after our arrival. The surgery went well, but his blood pressure was a worry. After 10 long days we flew back to Adelaide.
Zachary spent a couple of days back in NICU, then graduated to SCBU 1, where his health improved little by little. He would soon have surgery for his hernias and undescended testicle. One of the other complications for Zachary, was his cleft lip and palate. He did not tolerate any oral stimulation and could not suck. He was fed through a naso-gastric tube. I was approached by the doctor one day and asked if I would be okay with taking him home on N.G. feeds. On reflection I think they sent him home to die.
We brought Zachary home, and he shared his new room with Hannah. Two beautiful babies in two cots. It was hard mentally and physically. After feeding him 2 hourly, 24 hours a day, we went to a little more volume of milk during the night and 3 hourly. Still with every night feed, he managed to pull his nasogastric tube out, which meant reinserting it with bleary eyes. After feeding him, a lot of the milk came back up, so then we had to clean him and the bedding before going back to sleep, only to start over in a couple of hours. It was better to give him less volume more often, but the hours were killing us. We did the feeds together because he pulled at the tube and it needed to be in the right place. Reinserting the tube was my job, and I often needed more hands - especially when he had the oxygen tube, the nasogastric tube, and often required suctioning as well.
As you can imagine, with the two of us feeding him so regularly day and night, there was little time for anything else - especially dishes which were piled 5 feet high. We thought we were lucky when a volunteer came. She was asked to spend time with the older kids. Unfortunately this didn't work out, and discontinued after a couple of visits. We also had the support of the Multiple Births Association - 3 hours a week of respite. The respite worker was a beautiful person who bonded quickly with Zachary. Most of the early days we didn't go out because Zachary was just so complex. I guess I was lucky that I had older children, so I wasn't a new mum, and the usual scary things weren't an issue, but I must say that the challenges of Zachary were sometimes unbearable. One of his big problems at this time were kidney gravel or stones, and his nappy was often full of blood. This can be very daunting, and our usually placid happy boy was in agony when they happened.
Adrian and I kept a recorded a chart of fluid in and out, any bowel action and respirations. Zachary's respirations were too fast, and he was constantly turning blue. A cayhs nurse left my house distressed when he had turned blue in front of her, and all I could tell her was that they know but are not concerned. Several times we took him back to hospital, and several times after 2 minutes of observations they said he was fine. One day they admitted him to do an over night study to see if he was refluxing. It was decided, (apparently to give me reassurance or shut me up), to send him home with oxygen.
It's interesting to note though, on a routine check up, his saturations dropped to less than 70% when I removed his oxygen tube whilst he had the monitor on. This was noticed by the doctor, and he was kept on 24 hour oxygen therapy. On Good Friday, whilst visiting my parents, we rang the doctor to tell him our son was very blue. He told us we could come in, and we did. A chest x- ray showed that he had inhalation pneumonia - caused by his very severe reflux. He was very sick. After he was over the pneumonia, it was decided that Zachary needed to have a feeding button, (gastrostomy), surgically inserted into his abdomen.
A Nissen Fundiplication was also performed. This is a wrap of the top of the stomach, to stop gastric acid from going back up. We were told that our son had very serious reflux, but there was a mix up with the results of the overnight study – so no one ever knew.
On Sunday, we were having a lazy morning in our pyjamas when the phone rang. It was the surgeon who performed the operation. We were informed that Zachary was acute, and he had peritonitis. When they put the feeding catheter into his stomach it had travelled down into his duodenum and out into the pelvic cavity. Consequently he was fed into his pelvis for 3 days.
On our arrival Adrian and the girls talked to the doctor while I ran into PICU. He lay limp on the bed while doctors and nurses were busy doing what they do. His tiny veins had shut down, and the doctor's hands were shaking as he probed and probed for a vein to put the lines into. At one point he asked me to help and make him cry… he was hoping to stimulate a vein by doing this. Zachary didn't, he just lay there speaking to god I imagine. I couldn't and wouldn't move, I needed to be there. There wasn't any time left, so without any lines in they rushed him to theatre. He returned to PICU after the surgery and was very sick. I can't believe we nearly lost him again. We had meetings but no body could offer us an explanation as to why this happened. A week or so passed and we brought Zachary home again but this time without oxygen.
But he now had severe diahorea that never stopped. It was so bad that his backside was raw, and we kept him on blue sheets instead of nappies. We couldn't go anywhere now, we tried but it just didn't work. We also had an apnea mat that went beep, and a kangaroo pump which fed him constantly through the night.
We were scheduled to have his first lot of craniofacial surgery. That morning I said to Adrian I didn't like the look of Zachary. His colour was off and something felt wrong. We took him in that morning, and told the nurses to use a blue sheet instead of a nappy, explaining that ever since his peritonitis he had constant diahhorea. I then spoke to the anaesthetist and told him my concerns about Zachary being 'off'. He rang our paediatrician who said "if mum's worried, run some tests". Sure enough, they discovered that Zachary was severely dehydrated and needed urgent fluids in a high dependency ward. The doctor spoke to me later and said Zachary would have died in a few hours if he wasn't treated. How close again.
It wasn't too long before he was back to hospital for the first of his craniofacial surgery – they repaired his lip and inserted grommets into his ears. When I finally saw Zachary's new mouth I was a little torn. This little man looked so different now. Very cute, but I had become so used to the way he looked and at first I wasn't sure if I liked the new him. Our brave little man didn't bat an eyelid, never grizzled was always happy. Eventually after months of enquiries I had the services of physiotherapy, occupational therapy and speech pathology. They came to our house weekly and fortnightly with advice and help.
The diagnosis of kabuki syndrome happened around this time. While we were seeing the gastroenterologist, he happened to mention that the pit in Zachary's bottom lip looked like one he had seen before on a child with Kabuki. That night we were talking, and I asked Adrian what was the name of the condition the doctor mentioned today and he said he thought it was something like kabuki, so we turned to our smart friend; the internet and typed in the word we heard that day - the same word that has impacted on our lives for 13 years. It was so quiet as we read the synopsis. This was our son, and up until now, our son just had some medical problems; he was going to be alright eventually. We quietly agreed that this condition was a possibility. When I rang the hospital it was going to take five months for an appointment. We already had one for Zachary's pulmonary specialist and when we spoke to him and told him all that we had learnt, we asked him at what age can you tell if a child has a intellectual disability. He looked at us and quietly said -now.
I was fine, just another hurdle, but I wasn't. Not really. I was grieving the son I had lost. Even though I loved this little man with my whole heart, I had to let go of the son I thought I was going to have. A little therapy would have been a good idea at this stage. But I was too busy, (4 kids under 5), and with a little boy I wanted to help be the best he could be. I couldnt fail him. After making an idiot of myself in the genetics department, ranting and raving about seeing a geneticist, and that the 5 month wait was inexcusable etc, an appointment was made for a couple of days time. It was really just a formality, and I think they knew the answer before we arrived.
The diagnosis was confirmed and Zachary's notes were stamped with Kabuki Syndrome. We told our family and friends and I only lost it once whilst I was telling my brother that Zachary is intellectually challenged. His response was, "don't worry - these kids are always happy". Funny enough, it made me feel better. We had a corner chair for Zachary because he couldn't sit up. Children with Kabuki syndrome are floppy and have low muscle tone. He didn't walk until he was 2 -3, and we were constantly helping him. I gave him thick crayons to hold on to, and this helped him use his thumb. Basically, children like Zachary need to be taught everything that children normally do instinctively. Crossing one leg over the other to teach him how to roll. Using hands first to teach him to crawl. Holding his hands against furniture to teach him to stand.
Reading this, you must ask what about Hannah his twin sister? Hannah was an amazing baby. I took her to the doctor when she was a baby because we were concerned that she wasn't awake enough – remembering that she was born at 31 weeks; she had haemolytic anaemia, a pyloric stenosis, and a lazy bowel. When she came home from the hospital she slept from 8.00 pm to 8.00 am, which given my previous experience as a mother, made me think there just must be something wrong with her. After explaining my concerns to the doctor, he wheeled his chair over and placed his hand over mine. In a quiet voice he said "its divine intervention". Fair enough!
My priority was to help Zachary be the best he could be, and without help, I did this every day until he started school. To help Zachary cough, I pushed his trachea with my finger, eventually he did this on his own. The biggest mile stone was eating - he just hated anything in his mouth. He arched and screamed when we tried, but I pictured him at lunch time at school being fed through a tube while others ate. So for many hours every day, we worked on swallowing and eating. It was the hardest thing I have ever done, and I remember thinking at the time that it would never end. It did.
In the beginning I would wrap him tightly in a blanket, and using several towels, I poured and poured bottles of formula into his mouth. Very little was ever swallowed but I still persevered. After a few days I introduced my special meals... vitamised peanut butter sandwiches, formula and vitamins. Sometimes they were vegemite, and sometimes Tom Piper blended with formula. Yum.
I changed my clothing at least 3 times a day, because not much of this glop and formula actually gets in. He still screamed and screamed and screamed, and it was exhausting, but every day more and more was being swallowed. A bean bag was perfect, it gave me an extra arm, and I still wrapped him to prevent him from covering his mouth. His improvement was being helped by his hunger (I was now spending more hours a day on this). I would sit him on plastic with all sorts of food to play with, and one day I put a big bowl of spaghetti bolognaise on his lap and he picked it up with his hands and yes - it was going to his mouth... and yes - he was putting it in! Silence and anticipation gripped me as I watched the handfuls of wiggling strands of spaghetti - and yes, they were going in. He repeated this until it was all gone. He had independently eaten all by himself. It finally happened he was enjoying food. Now the bit about this that bothers me the most, is that I didn't cook the pasta, Adrian did! We look at Zachary today as he asks for seconds at the dinner table, and it's hard to imagine any of this!
I imagine I helped him with everything a thousand times, as like all children with syndromes like his, he can do it - but it takes a lot longer to learn. I remember thinking in the early days that Zachary was unable to learn naturally. For example, babies usually learn all the basic stuff on their own, but I had to teach Zachary everything.
To help Zachary with his speech, we spent a lot of time sitting in front of the mirror sounding out letters, and I would get him to talk and watch his mouth in the mirror. Actually, speech was just as much hard work as eating. Until he was five he was completely incomprehensible, so lots of hours were spent teaching him sounds. We learnt and used sign language too.
Zachary and his twin Hannah started kindergarten. We were lucky enough to find an excellent place not too far away. The Director, "N", was the most fantastic lady. There were a couple of other special needs kids there - one with cerebral palsy and another with a rare condition. I found it amazing the natural and almost instant bond that formed between the kids. The little girl with cerebral palsy - I'll call her "N" too, was Zachary's first girlfriend.
This was my first taste of red tape and government legislations I didnt know existed, and I will talk about these later. It is probably around this time Zachary had his next lot cranio facial surgery. We decided that whilst he was having his palate stitched that he would have his ears pinned and nose redone and the pit in his bottom lip removed. We felt a little mean for doing this to him, but his ears stuck out and it was just another barrier to him being socially accepted. After the surgery he was his usual happy self and he was home the next day and around two weeks after the surgery Zachary's bandages were removed and his new nose and ears looked good.
Zachary continued to do well at kindy. Ultrasounds revealed Zachary's kidneys were not it top shape, however. One of his kidneys is ectopic, which simply means it's in the wrong place. It is also very small and didn't appear to have grown. The other kidney is larger than normal, (to compensate). Both kidneys have nephro calcinosis, which means that the nephrons have calcified due to the large amounts of diuretics given as a baby. Both kidneys are covered in tiny cysts also. We will have to keep an eye on them and regularly see a nephrologist. We have an ultrasound at least once a year, as well as urine and blood pressure tests.
After sucking as many hours as possible from kindy, it was now time to battle the system and find him a school. The director "N" and I felt that Zachary was half way between a special class and mainstream school. The first school with a special class that we visited was horrible. The teacher, (who seemed special needs himself), had the children including Zachary sit in a circle roll a ball to each other and say the name of a piece of fruit. The first child said orange so consequently all 12 repeated orange without any intervention from the teacher. I questioned him about daily activities and they were all pretty much like this. Meanwhile I had rang around and found a school with a headmaster who had a great philosophy.
The education department sent a letter stating perhaps I didn't know how the system worked... Forget choice - they had to choose for me! An interview with Zachary's sibling's school demonstrated that there was not any support funding for private schools, and because of this, their school wasn't an option. Finally another school with a special class was visited. The children were beautiful and the teacher seemed fine.
First day of school - all captured on video with smiles and excitement. Not long after he started at this school, many things were not sitting well with us. They would make him toast with nutella every morning to help him gain weight, but fatty things like butter and nutella give him diahorrea, and therefore lose weight. He would spend most of the school days, (every day after lunch), playing freely in the kindergarten that adjoined the school. Zachary needed twice as much work to challenge and teach him. Zachary was also copying the negative behaviours of some of the children.
I then enrolled Zachary in the local public school. He gained excellent social skills and physical strength at this school, but Zachary missed his siblings, so another attempt was made to get him to the same school as his twin Hannah and older sisters Chloe and Holly. We discovered that due to funding changes that we could enrol Zac into this school.  We were delighted with this school, they were wonderful with him and worked on fine and gross motor skills daily, thanks to volunteers and staff; they had Zac catching balls after a few months, and this once wobbly and fragile boy was running around the court yard.  He was able to read almost at his own age level.
Zac continued to blossom at school, he didnt have any more medical emergencies and continues to make us smile.
We wouldnt change Zac, he is perfect to us and we are richer for having him.