By Brendon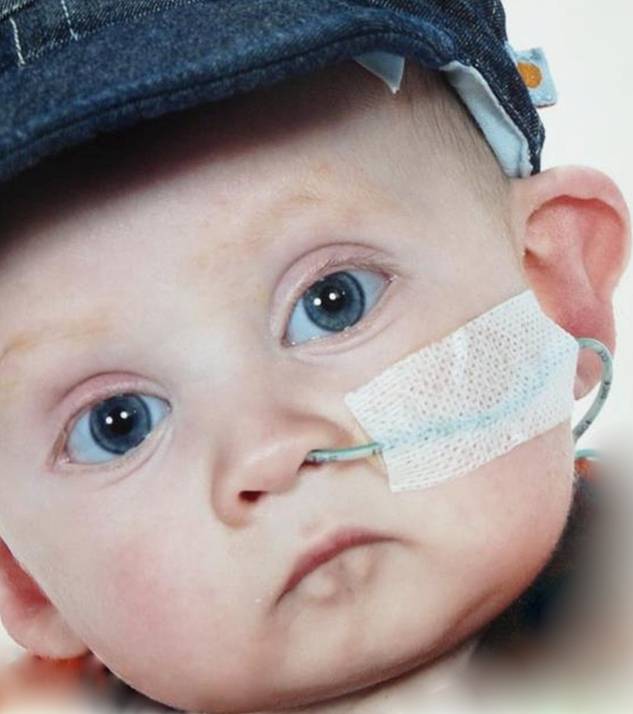 As many of you read this story you know the feeling when a standard ultrasound at 12-13 weeks leaves you feeling empty knowing that something is not right with your developing son or daughter. The indicators were a thick nuchal fold normally indicating 'Down Syndrome'.
The stenographer could also only see one kidney and an irregularity in the blood flow of the heart which he guessed could be a Congenital Heart Disease (CHD) known as 'Tetralogy of Fallot'. We opted for a CVS scan which could be completed around 14-15 weeks and the results a few days later showed everything as 'normal'. The roller coaster ride of emotions begins now knowing that this baby may be fine based on the latest results however we were then informed to 'not get our hopes up just yet' as there may be other issues which could be not be detected until 19-20 weeks by a heart specialist. At 19-20 weeks the diagnosis was confirmed and were told that other birth anomalies were possible post birth and the terms VATER and VACTERL were mentioned.
Ryder Cooper Withers was born at 38 weeks at the Mater Hospital on 2 June 2011. He weighed 2480 grams (5 pound 10 oz) and had more than the usual specialists around to cover any complications. I remember his squeal as he came into the world and he had a short time with mum before being moved to an area to have quick physical inspection. He was slightly blue and the first of the anomalies presented itself in the form of being born with an imperforate anus. Ryder was taken to the neonatal intensive care area and underwent an emergency bowel surgery on Day 2 and given a Colostomy to allow his bowel to function normally. We then had new experiences in dealing with colostomy bags etc but we were given some great support from the hospital. Other anomalies later found included a set of missing ribs, hemi-vertebrae, clavicles not fused and some unusual shaped toes on his left foot as well as a duplex kidney.
Ryder had his first heart surgery on Day 9 (BT Shunt) and from this point was moved from the NICU to the Paediatric ICU. The heart surgery went well but nothing prepares you for the degree of life support that he was hooked up to post surgery. To us it looked like a lot of confusion going on and the feeling of helplessness when you have to trust another person with your little one's life.
We were sent home and he seemed to grow reasonably well for the first 4 months getting to 4.5kg however everything slowed at that point. He remained NG fed along with breast feeds and then bottle fed however 'fail to thrive' was evident. Ryder seemed to be very small and not gaining weight for no apparent reason. We had dieticians involved telling us to give him high calories. At 10 months of age we are only just over 5 kgs.
On 24 May 2012 Ryder underwent open heart surgery to correct the issues within the heart. All seemed okay however around 1 week post-surgery his condition deteriorated and he was taken back to ICU. In June 2012 he suffered a full cardiac arrest and had to be given emergency drugs and treatment to save him. Over the next 2 months his condition baffled the Doctors however after placing a hole between the top two chambers of his heart it allowed him to shunt deoxygenated blood which increased volume around his body. From that point he started to improve however an MRI showed a depletion of oxygen to the brain causing a large degree of atrophy (shrinkage).
Around this time I was raising money for Heartkids QLD and his story was told on the Channel 7 news in Brisbane. As it turns out a Doctor from the Genetics area of the Royal Brisbane Hospital saw Ryder and knew immediately that he was a 'Kabuki Kid'. She paid him a visit and identified a number of characteristics such as the pads on the fingers, low muscle tone, hearing issues, mouth and ear characteristics and also the fail to thrive. In a nut shell he was born with CHD, VACTERL and KABUKI. The diagnosis changes nothing in the way we care for him but does provide some additional answers as to why he is slow to grow.
Ryder has had to relearn to eat and drink and he lost the ability the swallow effectively. Pre surgery he was doing well with his eating and post we were lucky to get a teaspoon of food in. He now eats bowlfuls of puree and mashed or lumpy foods, such as Weetbix, vegies, avocado and fruits, but especially loves his milo chocolate mousse for dessert every night. He has finally gained back the weight he lost from the removal of his NG tube now eating and drinking independently of supported feeds.
Ryder turned 2 on 2 June 2013 and weighs in at 6kg. He looks the size of a 6-9 month old. He is getting better co-ordinated with his hands but will not put items of food to his mouth independently. He much prefers to throw items from his high chair and then wave good bye to them. He understands humour which is really nice as it took nearly 80 days post-surgery for him to smile again.
Developmentally, Ryder has been able to sit independently since about Christmas, and chooses to do so more and more as he gains confidence. His core strength is getting better each day, and is now putting up with some tummy time, although his little arms cannot hold him up as yet.
Ryder has a Facebook page called 'Ryders Broken Heart' with over 700 followers. The page has allowed us to keep friends and family up to date as well as have others with similar issues follow his progress and contact us direct to seek support and/or answers to some questions they have.
We enjoy reading about other kids with Kabuki which helps put into context some of the issues the parents and kids face which helps better prepare for his coming years of growth and future schooling. The future still remains largely uncertain, especially in relation to his brain function, but we are hoping we can educate him in as much of a main stream school as possible as he loves interacting with kids his own age, and learns so much from them.