By Angela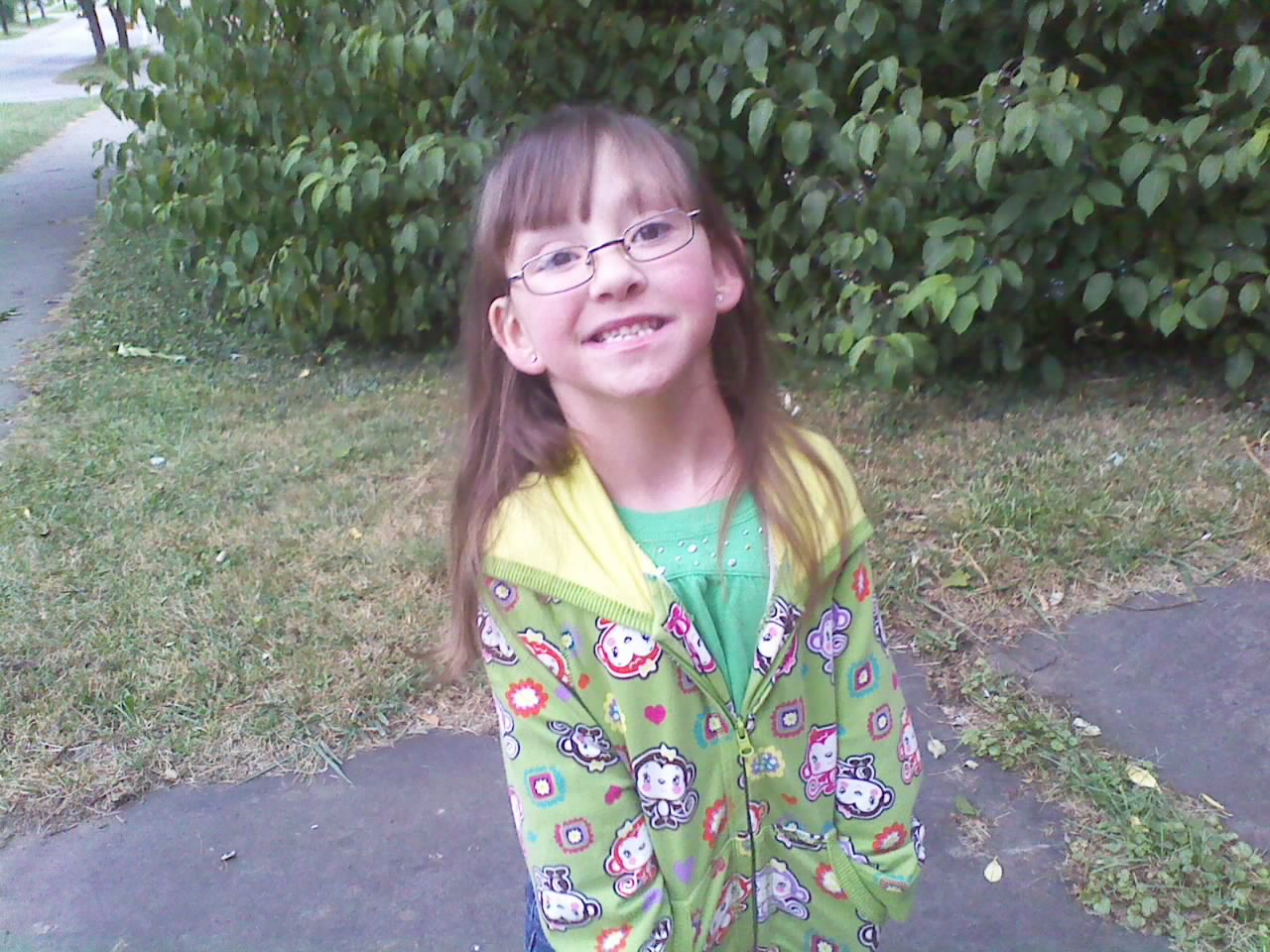 I found out at 19 weeks of gestation that Amelia had Hydrops, Cystic Hygroma, and a very large VSD (Ventricle Septial Defect). They told me that she had a 10 % chance to survive and that she had a chromosome defect. Working as a Delegated Nurse taking care of disabled adults and children I understood immediately even though, I was only 20. She was mine and I was taking her the way God planned for her to be. As the weeks past… I had ultrasounds and her heart exams weekly. From 24-36 weeks gestation every Friday I had a non stress test…some she passed and some she didn't requiring additional testing.
At 36 weeks they told me she stopped growing and that they were going to have to induce labor. I was so scared not knowing what to expect. They did some testing already and they thought she had Turners Syndrome. That was negative. Then they mentioned Noonan's Syndrome. There was no definite answer. She was born emergency C-section her heart couldn't take labor after 7 hrs. She was 5 lbs 3oz 17in long. As soon as I heard that scream I knew she was a fighter. Other then not wanting to eat much she had extra skin on the back of her neck where the hygroma was. They knew about her heart and we left in 3 days. We followed up with the cardiologist. Knowing she needed open heart surgery.
At 10 days old she wouldn't eat more them a few cc's at a time. She couldn't suck, swallow and breathe. She had an NG for a bit but the doctors ended up putting in a feeding tube witch eventually got switched to a Mickey button. She was so sick.
The first year of her life became a blur. We had many genetic tests done. We never got any answers. She had her first open heart surgery (Lg VSD and Sm VSD closure and a pfo repair) at 3 months. She was only 3 lbs at that point… she just wouldn't grow (failure to thrive). She had GERD. They had to put in a broviac. I found out at this time that she had small kidneys and scoliosis. She was also fighting ear infections all they time she has had many sets of tubes. She had a mini stroke while she was in my belly. She screamed all the time. We couldn't figure out why. Then after developing breast buds they realized that she was in menopause, she had precocious puberty. They have surgically placed a Supprelin LA implant, hormone therapy, in her right arm until she is 11 or 12 years old. The implant holds a year's supply of daily released medicine that requires them to surgically remove and replace a new implant.

When she was happy she was extremely happy. She loves to laugh and smile. She would roll to the right to get anywhere she wanted. By 10 months she was saying mama, dada and Dee Dee. She was several months behind but she had OT, PT and Speech starting at 4 months. She sat alone at 14months and would still roll up in till almost 2 when she started crawling. She starting taking bites of baby food but had her liquids thicken.
At age 2, she had surgery on her left eye to fix esotropia. She also started wearing glasses. I found out that she had a mixed mild hearing loss. At 2 ½ she had her second open heart surgery (Pulmonary stenosis and had a DCRV Double Chamber Rt. Ventricle Repair). She started walking a week after her heart surgery. Her speech was improving and she was making wonderful developmental strides. She was still screaming during baths and when getting lotion on. Finally I videotaped bathing her and the physiologist realized that she is Tactile Defensive. She doesn't like to be rubbed with anything, her hair brushed, or teeth. It also made sense why she didn't like mash potatoes, pudding and apple sauce. She was working very hard with eating and touching rice, beans and sand this year. It was rough but she did it. She is still continuing to tolerate many of her dislikes. Especially learning how to tolerate daily life.
At age 3, she already had RSV 2 times and kept getting hospitalized for pneumonia. I found out that she was born with out the medullary part of her kidneys (the inside) and she would eventually need a kidney transplant. Her right Kidney is ectopic (in the front).
I met with an amazing parent mentor at Akron Children's Hospital along with a wonderful genetic counselor. We made a folder of all of Amelia's medical problems. All test and many pictures. She took it to a CFC. Convention and many genetic Drs. were able to look at her folder and we got few suggestions. Kabuki being one of them. I researched all of the suggestions. As soon as I started reading about kabuki. I got chills and started to cry. I new my search was over. No, it wouldn't change anything but it would hopefully let us know what to look for. I took all this information to our genetic Drs. they agreed that this was it and sent us to see Dr. Ming in Philadelphia, Pa. She was clinically diagnosed.
It was the biggest relief that I could have. I just wanted to know how to explain to her when she asked why.
At age 4, she was still fighting pneumonia all the time. Also many high fevers. Finally we were referred to see an asthma doctor. Where after a lot of testing they realized that she had an Immune deficiency. Her Body is not making B cells to fight infection. She is now on preventable meds. She also had to have surgery on her right hip it was coming 100% out of the socket. She had to have her bone cut and rotated back in to the socket and a piece of fake bone added to her hip to hold it in place (Richard's Hip Screw). VDRO (varus derotational osteotomy) and a pelvic osteotomy. Even though she was fighting all this. She was enjoying life. Learning so much. Working hard on eating. So well that she starting eating everything by mouth. Doing great learning her colors. Loving every minute of school.

At age 5, she went right back to walking and building her strength. She got the Richard's Hip Screw out. Healed wonderfully and was back to normal in 3 weeks. She's still doing great at eating. She is still fighting pneumonia on and off. She started kindergarten and loves it. She knows how to spell and write Mia (Her nick name). She still needs a lot of verbal redirection, but is talking amazing asking questions all the time. Knows her ABC'S. Drawing most shapes. She is so fun. She loves being silly. She's so full of energy jumping, singing and dancing!! Loves music and Swinging. She likes trying to play softball (I am not too fond of this) I know I am over protective. She talks about her baby doll all the time and loves pretend playing. She's getting good at games and puzzles (actually beating me with out me letting her cheat). She is a really lovey and is very sensitive. Loves her little sister Katie like crazy.

She just turned 6. I am so excited to see what this year brings developmentally. I will keep my fingers crossed that she will stay as healthy as she can. She is almost completely potty trained except at night. She hasn't received a tube feed in over a year.
She will be starting growth hormones this year. She is still a little peanut…only 30 lbs and 39 inches tall. She has been a true blessing and a complete joy. I wouldn't have her any other way. We have an amazing support system. We couldn't have had better people in our lives. They have helped shape the person she is today. All of the Drs., Nurses Therapist, Teachers and anyone that has helped us go in the right direction.
We have Best family and friends who no matter what is going on puts a smile on her face. Amelia is who she is. We love that she is so unique. That's what makes her extra special.